Body Piercing Shop in Fayetteville NC
Among the Best Body Piercing Shops in Fayetteville, NC
Body piercing is as old as mankind itself, ever since humans roamed the earth they have pierced their bodies as a form of expression, some as decorative ornaments, others as signs of social status, and even as honorary batches for many tribal warriors. These days, body piercings are as popular as ever, but more of a beauty and fashion statement than as a cultural tradition, and if you just got a new piercing most likely you did it for the same reason. Here at Timeless Tattoo Shop in Fayetteville, NC, we're keeping the new tradition alive making bodies go from beautiful to spectacular.

Our top notch studio provides private rooms dedicated solely to body piercing and completely separated from the tattooing section of the shop. Not only do we have the best tattoo shop in any nearby town with talented artists, professional staff, and great prices but we also offer full-service body art at our current location.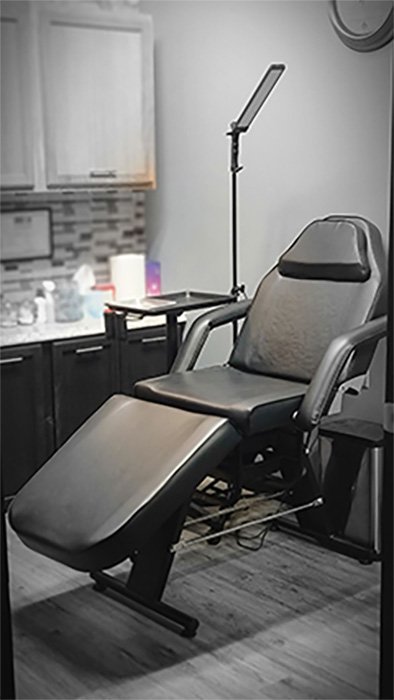 Your Best Piercing Shop near Fayetteville NC, Hope Mills, and Fort Liberty
We have a clean shop, safe, and professional environment making the whole process as relaxed and easy as possible. If this is your first time getting a body piercing in Fayetteville NC or Hope Mills NC, you can rest assured you're in good hands! Whether is a belly button or surface piercings, our knowledgeable staff and body piercers will guide you every step of the way. Doing an amazing job to make it a memorable experience.

Regarding the issue of piercing experience for minors, the State of North Carolina requires for all local shops legal documentation prior to getting any body part pierced, this includes the birth certificate of the minor and photo ID of the parent or legal guardian signing the parental consent. This is a great way to ensure great customer service, and the best experience provided by the best piercing places around Fayetteville NC, and Hope Mills NC.

After your body piercing is fully healed, is obvious most people immediately tend to go for a jewelry change. This is something worth considering since not all materials will behave the same way. When going for the new look, keep in mind that high quality surgical steel is the minimum recommended. Low-quality materials will most likely cause irritation, discomfort and can hinder the progress of the healing process.

We have a large selection of the best body jewelry at good prices. We also make special orders of new jewelry and trendy accessories to choose from and compliment your style. Our main goal is to see you walk out as a happy customer and feel like you came to the right place!