Best Tattoos In Fayetteville NC

With over 2 decades of experience in the industry, our tattoo shop in Fayetteville, NC, has made its goal to specialize in all popular tattoo styles. From a small walk-in tattoo to a full back piece or a sleeve tattoo, our team of professional tattoo artists takes huge pride in their work, no matter what tattoo idea you bring to them, you can rest assured they will execute every tattoo design with the precision and quality our clients look for.
Our tattoo studio also strives to ensure the safety of our clients by providing aftercare products and instructions for their new tattoo after the tattooing process is finished, with we aim to secure proper healing and overall good aging of the tattoo.

With each artist mastering every style of tattooing we establish ourselves as an all-around tattoo studio, offering a wide range of designs to choose from including Black and Grey, color tattoos, American Traditional, Neotraditionals, Script and lettering, custom tattoos, dainty tattoos, floral tattoo designs, Japanese Tattoo, Military tattoo designs, and much more.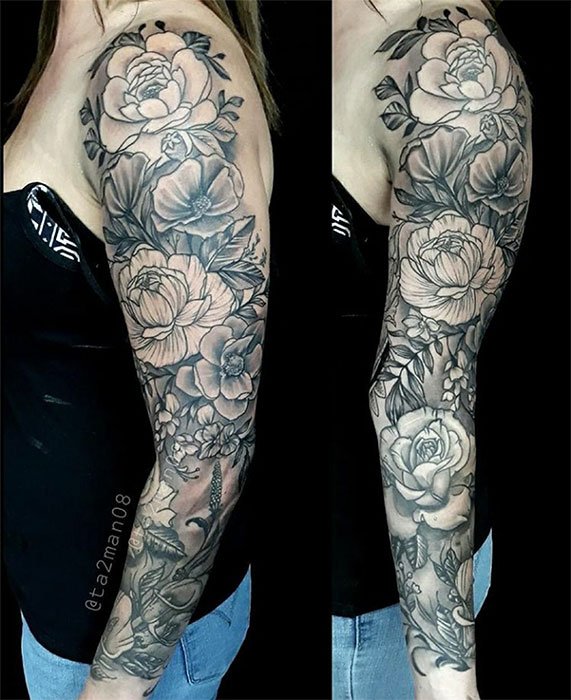 How to Book Your Appointment
All of our tattoo artists offer a free tattoo consultation before booking your tattoo appointment, we always recommend our clients to provide their artist with at least 2 picture references of the tattoo they're looking to get and as much detail as possible to ensure a clear understanding of the tattoo idea they are trying to accomplish.
In order to book your appointment, we require a cash deposit which will be credited towards the total price of the tattoo. We only accept cash and most major cards for final payment. We do not accept digital payments like Cashapp, Venmo, or any o that sort. Take a tour through some of our most recent work, if you'd like to see the rest of our tattoos you can access them at our Tattoo Gallery. For more info or any inquiries about our tattoos please visit us in person or give us a call today.
We look forward to hearing from you!