Impeccable Colorwork
Coloring is crucial when creating your tattoo, and Timeless Tattoo Studio in Fayetteville, NC, has the resources and expertise to ensure your tattoo has the vibrant colors you seek. It requires a meticulous ink artist to blend and perform impeccable colorwork on someone's skin.
You can trust that our designs and color tattoos are up to your standards. We have an impressive collection of colors and designs for you to choose from. Apart from realism tattoos, color is by far one of the hardest styles to achieve, and being a color tattoo artist is a responsibility we don't take lightly, wheater is a Traditional color tattoo, a realistic tattoo, or just an old piece you're looking to freshen up and bring back to life we have the artist for you!
Tattoos have come a long way, going from being associated with soldiers, sailors, marginalized people, and even the outcast of society to becoming recognizable pieces of artwork. Tattoos nowadays have transformed into a variety of styles, with limitless designs and a wide variety of drawings, pictures, and references.
The application and equipment have evolved in a huge way as well, going from simpler color pallets to a more complex and wider assortment of colors to choose from. New styles have played a role in the transformation too, styles like watercolor, neotraditional tattoos, fantasy, and illustrative full-color tattoos have attracted a much younger generation of collectors and tattoo enthusiasts.
Choosing the right design for your tattoo is a very important part of the whole tattooing process. Colors can affect the visual effect of the design, or completely change the dynamic of what is trying to be accomplished, It can help the picture come alive on the skin or it can be a complete failure, in many cases, ending up in regret, bad customer experience and a cover-up of the tattoo.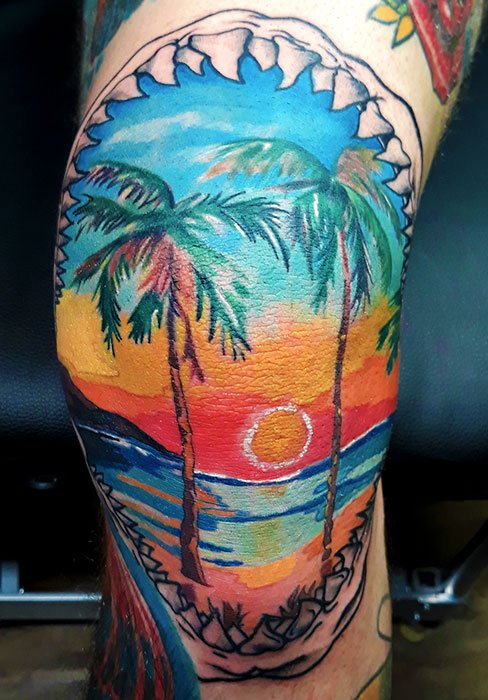 Know Your Color Tattoo
When considering getting a color tattoo, there are a few things to keep in mind, if you're looking to get a small tattoo, colors will blend into each other giving the piece a "muddy look", big pieces will look better with bolder color as the tones will be easier to read. The tones and shadings will vary depending on the design and style of the client's request. For a color tattoo, the process is the same, whether you want a black and white design or choose to go with a bright,t bold, multi-color piece is up to you.
Several styles will naturally gravitate towards being a color piece. Traditional tattoos, Japanese, watercolor, and illustrative are examples that rely on the heavy use of color-work to make it more pleasant to the eye.
When choosing a color tattoo you should keep in mind that your skin tone will also make a difference in how the tattoo will look and how long it will last or look over the years. Colors will always look different and lighter once healed and that's another thing you should keep in mind prior to making your decision
So whichever style is your favorite these days we've got you covered. But don't take our word for it, take a tour through our color tattoo gallery and check out some of the work we have done. If you are looking for one of the best tattoo shops for a Color Tattoo in Fayetteville, NC give us a try! Contact us to book your appointment today!