Favorite Walk in Tattoo Shop in Fayetteville NC
Premier Walk in Tattoo Shop in Fayetteville NC
We pride ourselves in being the very best tattoo shop for walk in tattoos in Fayetteville NC, Fort Bragg, and Hope Mills, area. We know not every tattoo needs an appointment, the fact is that the average Small-Mid size tattoo will take 1-3 hours to accomplish and no doubt it can be done the same day. So is a no-brainer that operating as a walk in tattoo shop and being a walk in tattoo artist is the way to go.
Not everyone is ready for a big custom piece that requires tattoo appointments and being placed on a long time waiting list. That sometimes can take weeks and even months before you can get your new tattoo. We understand that for many people today getting tattooed is a spare of the moment type deal. Not everyone has a preferred time or preferred artist, therefore we always make sure to keep our talented tattoo artist available to offer you the best experience.
When searching for the right "walk in tattoo shops" or a "walk in tattoo shop near me", chances are you will run into more results than you were expecting. That's because there are a bunch of different locations in this area, which sometimes can make it a bit overwhelming, and trying to weed out cheap tattoos from high-quality and amazing work could be pretty exhausting.
We always advise our clients to do their homework diligently when searching for a tattoo studio in Fayetteville, NC, or even a new tattoo artist, especially if they're looking to get a first tattoo or custom piece since unfortunately, not everyone is up to the task. We recommend always consulting with your professional tattoo artist before to ensure a great job will be done.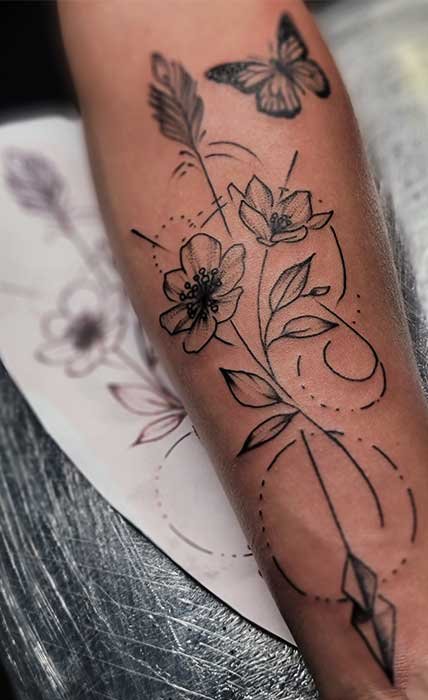 friendly staff and talented artists no appointment needed
Years of Experience Just Walk In and Get It!
We get it all the time, new customers coming through the door asking if we do walk in tattoos, if we have the best tattoo artists to help them with their tattoo ideas, if we have time for a small tattoo maybe a name or a rose tattoo, some ask if we do half sleeve tattoos in one sitting or break it into tattoo sessions, it never gets old, and for us is just the order of everyday business here. So don't feel afraid or embarrassed if you have questions about tattoos or piercings, just let us know what's on your mind, we'll be glad to help.
Great work and awesome tattoos begin with a skilled artist. All of our amazing artist are more than capable of delivering the best results. Whether you're looking for traditional tattoos, custom designs, or a flash tattoo, our resident artist as well as our new artist will always deliver their best work.
We offer a variety of styles to choose from. Whether you are looking for just line work or a full color bomb piece. Our artists can take care of it in a comfortable environment and always put first the quality of your next tattoo. The main focus is customer service and making sure you walk out with a piece of art and a great tattoo. We love doing great work and custom designs. We enjoy doing custom tattoos and putting a personalized touch on each piece we do. That's why we brand ourselves as the best walk in tattoo shop in Fayetteville.
Best Walk in Tattoo Shop in Hope Mills, servicing the areas of Fayetteville and Fort Liberty, NC!
According to the health department's guidelines for body art and piercing studios, we provide face covering gear for any number of people visiting us. Following along with our policy of a clean sterile environment with single use equipment and first aid. This is the best way to take your piercing experience to the next level and to know you are not only at a great place but in the right place.
As a Custom Tattoo Shop with a friendly environment, we strive to provide the most comfortable atmosphere for our customers by offering our piercing service in a clean place, with the utmost care. We also carry at our piercing studio a variety of beautiful body jewelry and body art accessories at great prices.
On the day of your appointment, always be sure to bring your photo id and parental consent, in the case of minors. If you require a specific time, make sure to check our regular business hours.
Here at Timeless Tattoo Studio, we offer the best tattoo experience. We take pride in what we do! Find out why our walk in tattoo shop is the best place for any walk-ins around Hope Mills and Fayetteville, NC. No matter if is your first time or a returning client, we guarantee you will have a great experience. But don't take our word for it, read what people are saying about us on Google Reviews and see what the buzz is about!